Payment and Financing
Dental treatment is an excellent investment in an individual's medical and psychological wellbeing. We realize, though, that every person's financial situation is different. For this reason, we have worked hard to provide a variety of payment options to help you fit the dental care you need and deserve into your budget. This allows you to enjoy all the benefits of a healthy, beautiful smile without disrupting your lifestyle. For your convenience we gladly accept, cash, check, or American Express, VISA, Discover, or MasterCard for payment of all fees and treatment.
Payment options: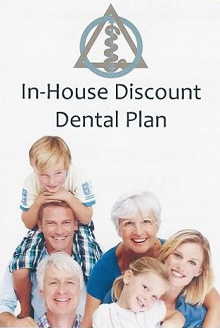 In-House Discount Dental Plan
Dr. Marc Bilodeau's In-House Dental Plan allows you and your family to get the quality dental treatment you deserve at an affordable rate. Please enquire us for details.
Term Loans
We offer, upon approval, interest-free loans up to 24 months or extended payment plans up to 84 months through Care Credit; with no down payment, no annual fee, and no prepayment penalty. We can complete your application online for you and have a decision in minutes. If you prefer, you can follow the link to the right and submit your application online and to get an immediate determination.
Payment at First Appointment
Unless prior arrangements (one of the above options) have been made, payment in full is required when services are rendered,
Information on Dental Insurance
The dental office of Marc Bilodeau is an insurance-friendly practice that is delighted to help you maximize your dental benefits, regardless of which insurance company you use. For quicker claims processing and reimbursement, we electronically submit your insurance claim before you leave our office. Additionally, we can handle any other correspondence that may be required with your insurance company.